KENT Grand Alkaline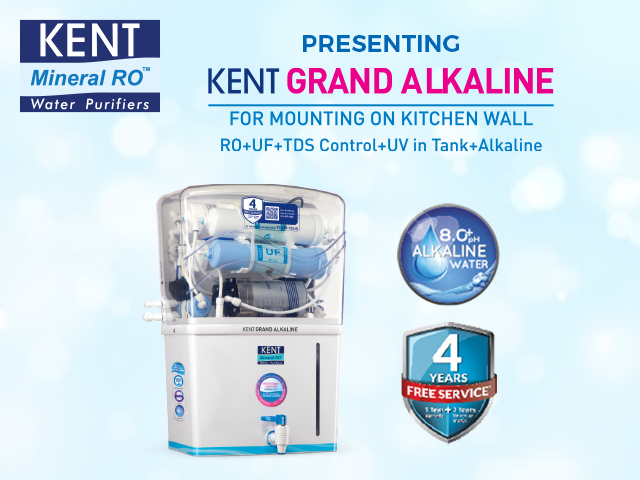 Features
Makes water pure & keeps your family healthy
Makes Water 100% Pure
This purifier ensures 100% pure water by removing bacteria, viruses, chemicals, and even dissolved impurities such as arsenic, rust, pesticides, and fluorides from water.
Multiple Purification Process
The multiple purification process of RO+UF+TDS Control+UV In-tank+Alkaline makes water 100% pure, alkaline, and suitable for drinking.
Retains Essential Minerals
An inbuilt TDS Controller retains essential natural minerals in the purified water.
Makes Water Alkaline
It enhances the pH of the purified water up to 9.5 and, thus, provides alkaline drinking water. Alkaline water helps regulating body's pH levels, reducing acidity, fortifying your health, and boosts your immunity.
UV LED Light in Storage Tank
It comes with UV LED light in the storage tank that keeps purified water bacteria free.
High Purification & Storage Capacity
It comes with a high purification capacity of 20L/hr and a storage capacity of 8L that ensures continuous supply of pure drinking water. Also, you can easily track the level of purified water in the storage tank through water level indicator.
World's Best Quality Certifications
KENT RO Purifiers have been awarded with Certifications from NSF International (USA) and CE Certification.
Most Trusted & Awarded
KENT enjoys the trust of more than 50 Lakh satisfied consumers across India. KENT's awards-studded growth is a shining testimony to its phenomenal reach and acceptance by global audience. KENT has received many national & international prestigious awards & recognitions.
Specifications

Applications

Suitable for Purification of Brackish/Tap Water/Municipal Corporation Water

Dimensions(mm)

390 (L) x 255 (W) x 535 (H)

Purification Production Rate

20 L/hr.*

Input Power Supply

Single Phase 100-250 V AC, 50-60 Hz

Body Material

ABS Food Grade Plastic

Storage Capacity

8 L

Mounting

Wall mounting

Total Power Consumption

60 W